St. Cecilia at the Tower II
St. Cecilia at the Tower II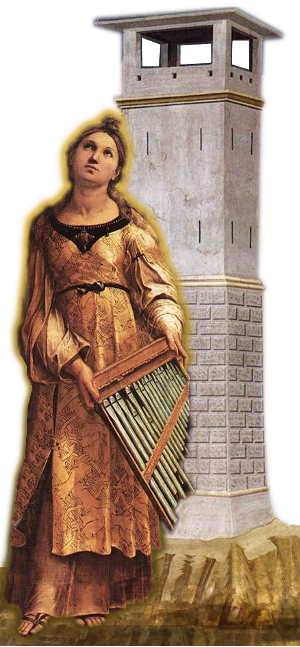 Date
: May 18, 2013
Time
: 10:00AM - 11PM
Location
: St Paul's UCC in Saline, MI [
Map
] (Site is Dry)
Address
: 122 W. Michigan Ave; Saline, MI 48176
St. Cecilia at the Tower
is a workshop for the purpose of helping musicians who play Medieval and Renaissance music to improve their craft.
Other Info
:
Facebook Event
Attire
For the classes, Pre-17th century clothing is encouraged but not strictly required.
For the evening activities, Pre-17th century clothing is requested. Contact our Chatelaine,
Genoveva
, for information on borrowing clothes for the event.
Lodging
If you'd like to stay with some friendly Cynnabar folks (most likely other musicians and dancers) contact,
Aaron Drummond
.
All of the Hotels/Motels listed are within 10 miles(or so) of the site.
Motel 6
Hampton Inn
Holiday Inn Express Suites
Holiday Inn - Ann Arbor
Site Fee
Suggested donation: $6
Since the suggested donation worked so well
last year
we're doing it again.
Tentative Schedule
9:00AM - 10:00AM..........Check-in / Set-up
10:00AM - 12:00PM..............
Classes
12:00PM - 1:00PM..............Master Class led by Mistress Amelie D'Anjou
1:00PM - 2:00PM................
Lunch
Break
2:00PM - 5:00PM............
Classes
5:00PM - 7:00PM............
Dinner
Break
7:00PM - 8:30PM............
Concert
(This may go longer)
8:30PM - 11:00PM..........
Other Evening Activities
Lunch and Dinner
At the request of attendees last year, there will be both a
lunch and dinner tavern
this year.
Also, there's a kitchen with a refrigerator and microwave, so if you want to pack your own meal, feel free.
Directions
Take your best route to either I-94 or US-23
From the East
: Get yourself to West I-94 Take Exit 180A - US 23 South - towards Toledo Take Exit #34 (first exit) - US 12. Turn right. Go about 5.8 miles Church is on the right.
From the West
: Get yourself to East I-94 Take Exit 175 - Ann Arbor-Saline Road, turn right. Go about 1.2 miles, to the Stop sign. Turn left. Go 3.9 miles to Michigan Ave (3rd traffic light), and turn right. Church is less than 1 block on the right.
From the North
: Get yourself to South US-23 Take Exit #34 - US 12. Turn right. Go about 5.8 miles Church is on the right.
From the South
: Get yourself to North US-23 Take Exit #34 - US 12. Turn left. Go about 5.8 miles Church is on the right.
Staff
Autocrat:
Jadwiga (Jadzia) Krzyzanowska
Drop-dead Deputy:
Aaron Drummond
Lunch Tavern Steward:
Mistress Tacit Darby
Dinner Tavern Steward:
THL Arina de Tränetorp
Frequently Asked Questions
I want to teach!
Email Jadzia
Classes are all scheduled! Email Jadzia next year.
I play a modern instrument / sing in a non-Early Music choir. Can I participate?
Absolutely. If you can (more-or-less) read modern sheet music, you'll be able to fully participate in just about every class. We aren't picky about period instruments. Sure, renaissance recorders and shawms are preferable, but plastic baroque recorders, oboes, modern flutes, french horns are all fine. We might draw the line at a
theremin
. Maybe.
I can't carry a tune in a bucket, I don't read music, and I don't play any musical instruments. Will there be anything for me to do?
Yes, although a fair number of the classes will assume you have some musical knowledge. The lecture track won't require you to actually play or sing any music. You can sit in on the Master Class and watch the participants get their work critiqued. Also in the evening there will be a concert and you can listen to the other music making going on. Classes with little or no music background required will be marked.
What is this Master Class you speak of?
From the
Wikipedia
page:
"The difference between a normal class and a master class is typically the setup. In a master class, all the students (and often spectators) watch and listen as the master takes one student at a time. The student (typically intermediate or advanced, depending on the status of the master) usually performs a single piece which they have prepared, and the master will give them advice on how to play it, often including anecdotes about the composer, demonstrations of how to play certain passages, and admonitions of common technical errors. The student is then usually expected to play the piece again, in light of the master's comments, and the student may be asked to play a passage repeatedly to attain perfection. Master classes for musical instruments tend to focus on the finer details of attack, tone, phrasing, and overall shape, and the student is expected to have complete control of more basic elements such as rhythm and pitch. The value of the master class setup is that all students can benefit from the master's comments on each piece."
In the Cecilia Day Master Class we'll have one or more Music Laurels play the part of the Master. 2 Performers or groups will play their prepared piece and the Master(s) will critique the performance.
How do I get to be one of the Performers in the Master Class?
Contact
Jadzia
What is the Concert about and how can I participate?
The concert will be performed by groups and individuals participating at St. Cecilia at the Tower. Groups can have up to a half hour of performance time, individuals can perform one song. Some historical and performance background on the pieces performed is requested. First priority will be for the Master Class participants, although they are not required to perform in the concert.
Again, participation in the concert will be on a first come first serve basis. Contact Jadzia if you or your group would like to be in the Concert.
Concert schedule is full! Email Jadzia next year. Early inquirers get longer performance slots.
I heard there will be unofficial musical gatherings throughout the weekend. Can you tell me more?
Saturday night after the evening activities have finished there will be a post revel at Jadzia and Aaron's House. Information on this will be given at the event.
I want to help advertise!
Yay! Please print out some fliers and put them at the gate at your event.
Color Flier
Black and White Flier
Is this the last question?
No, there is one question after this one. There may be more questions with answers as we update the website.
Why aren't there anymore questions?
Because everything you need to possibly know about this event is already posted. If not, prove us wrong by asking us a question!