Office of the
Knight Marshal
Baronial Fight Practice is held Thursday evenings during the summer. See below for locations.
Are you interested in trying armored fighting? Newcomers are welcome! Bring water, workout gear, closed-toe shoes, and an appropriate athletic cup for your gender. The Barony of Cynnabar maintains a collection of loaner armor, so there is a good chance you will be able to get into armor at your first practice if you so desire. Of course, you are also welcome to come to learn basic sword moves without getting into armor, or just to watch. Some people show up to practice late, so it usually pays to wait 30 minutes or so if you are the only one there. The Middle Kingdom Wiki has more suggestions on what to bring for your first time in armor.
Our Armored Fighters and Our Populace at Pennsic XLIII. Photo by Genoveva von Lübeck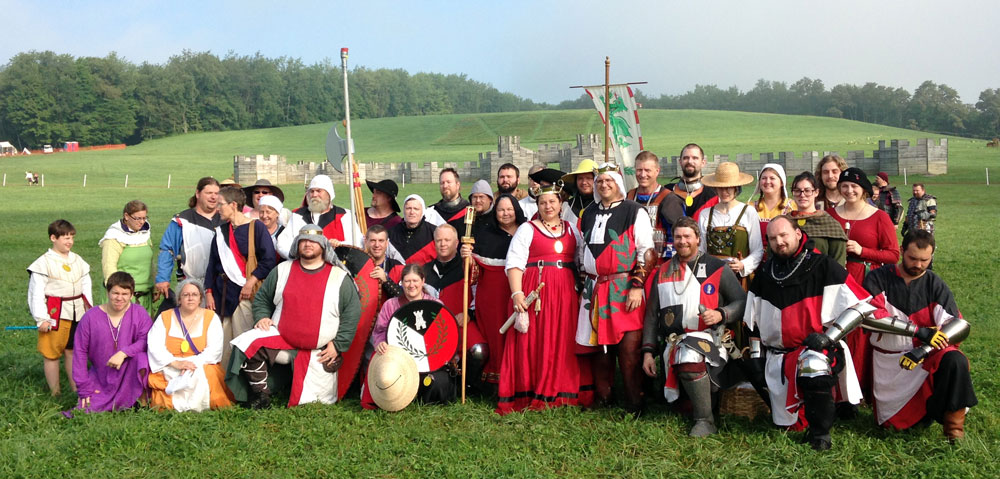 Winter Practice (Sundays, October - April) is normally held at the University of Michigan Union, 530 S. State St, Ann Arbor, MI. Free parking is available in the Thompson Structure on Thompson St. behind the Union. See calendar above for room.
Spring and Summer Practice (Thursdays 6:45 pm - dark, May through July + September) is held at Ypsilanti Community Center Park. The address is 2025 East Clark Rd, Ypsilanti MI - actually the Township community center, but we are at the park directly across the street, which doesn't seem to have an address.
A monthly Tournament is typically held at the last practice of each month.
For more information, please contact our Knight Marshal at knightmarshal@cynnabar.org
Dates, Times, and Locations: