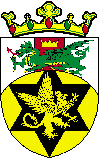 Eliahu ben Itzhak (modernly known as Joe Radding)
Or, on a mullet of six points sable a griffin segreant contourny Or, as an argumentation on a chief embowed argent a pale gules, overall a dragon passant vert, in chief a coronet Or.
For updates and corrections, please e-mail precedence@cynnabar.org. Include your SCA name, modern name, awards to add, and date received.